Apple Watch blasted by a rifle
16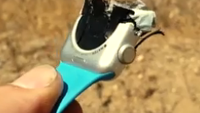 The Apple Watch Sport might offer protection from water, and it is sturdy enough to live through some traumatic drops. But Apple's entry-level smartwatch won't survive a rifle blast. That was made clear from a video showing the timepiece taking a .50-caliber rifle bullet to the face. At regular speed, the action happens so fast that one second you see the watch, and the next minute you don't. But when you slow down the video, that's when you can feel the timepiece's pain.
If you look closely, you can see the bullet slam into the watch as the screen shatters. A small fire ball appears right in front of the device. The end result looks pretty bad as the Apple Watch is literally shot in half.
You'd be hard pressed to find many devices that could eat a .50 caliber shell and continue to run as though nothing ever happened to it. The good thing is that this is not something that you normally have to protect your Apple Watch from. If you're a big fan of Apple's wearable, this video is guaranteed to make you cringe. Check it out by clicking on the image below.
source:
FullMag
via
RedmondPie