Apple Store expands free recycling program, puts out environmental commercial
2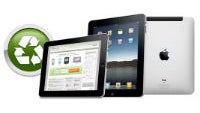 Energy sustainability is getting bigger and bigger these days. Google has been well known for finding renewable energy sources to power its massive server farms, and Apple wants to position itself at the forefront of renewable energy and environmentalism. To kick it off, Apple has completely redone the "environment" section of its website, and CEO Tim Cook has even narrated a commercial to go along with an expansion of its recycling program.
Apple says flat out, "We believe climate change is real", and goes on to explain how it plans to be a leader in sustainability. In the commercial, Tim Cook starts out with the general idea of being better and showing off the various iOS devices, but quickly transitions into plans for being more environmentally friendly. Cook talks about "using greener materials, less packaging", using recycled materials, green energy, and keeping Apple devices out of landfills.
On that last point, Apple has also announced an expansion of its device recycling program. Apple has had recycling programs since 1994, and more recently, it has been offering gift cards for iOS devices able to be resold, and has taken iPhones, iPads, and Macs for free recycling no matter the condition. Now, the recycling program has been expanded to accept all Apple devices.