Apple Store down for updating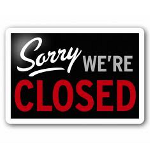 the site is down
in the U.S., Germany and Australia. Those are the three locations that are closed that we are aware of at the moment, but we would imagine that the site is undergoing a change in all countries. When you go to the site online, you are met with a graphic stating that the Apple Store is undergoing updating and will be back soon although a date is not specified.
If you live in another country besides the three mentioned above, give the Apple Store a shot and see what comes up. You can leave us a comment in the box below. Perhaps this will be as fast a renovation as Gordon Ramsay's overnight restaurant make-overs on
Kitchen Nightmare
. After all, no online Apple Store means
no online revenue
for the gang in Cupertino.
source:
AppleStore