Apple News wants to play fair to the left and the right, promises no "fake news"
5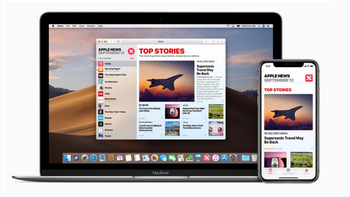 Apple News'
editor-in-chief Lauren Kern spoke with the Sydney Morning Herald
on Monday, and made it clear that when it comes to news, accuracy is more important than speed. "Misinformation can come out so quickly and spread so rapidly and that's something that we take pride in not allowing to happen," Kern said. "Our mantra is that it's better to be accurate than first."
Apple is also trying to be different than other news apps. Instead of allow algorithms to determine the placement of stories, the company relies on breathing, living human journalists to decide which news makes it under "top stories," and which articles are posted under the "features" tab. Apple will only work with publishers it trusts, eliminating those who serve up fake news designed to get a reaction from one side of the political spectrum. In fact, Kern notes that Apple wants publishers from both the left and right so that readers can understand where both sides are coming from. She adds, "In general, outrage clicks well. People like to read within their own filter bubble. That's not something we want to encourage here."
According to Apple's VP of apps, Roger Rosner, the decision to make Apple News balanced comes from the top, CEO Tim Cook. "Tim Cook very quickly saw the critical social impact, the value to society, of this sort of effort. He told us early on we needed to make a priority of helping journalism thrive, of helping democracy in an increasingly challenging world. We are trying in our own, small way, to build a little bit of a shared reality here, and mend some of the polarization."
"It'd be crazy to say there wasn't some wariness from publishers about participating in the platform. Apple News is different from our competitors. They are all about maximizing advertising revenue. We don't do that same calculus. Our goal is to get people to read good stuff."-Roger Rosner, VP of Apps, Apple
Publishers decide which stories are used on the Apple News platform, and even get to decide when notifications are sent to users. If they provide the ads themselves, they get to keep 100% of the revenue. If Apple supplies the ads, the publisher gets to keep 70% of the revenue. And any publisher whose app is subscribed to through the App Store keeps the usual 70% while Apple keeps 30%.
If you want to install Apple News on your iOS device, click on this
link
.
Recommended Stories