Apple Maps makes Mad Magazine's "20 Dumbest" list of 2012
19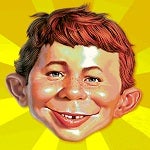 It has been a little while since we had a good laugh at the expense of Apple Maps. Thankfully, the creative folks at Mad Magazine decided to take another jab at the iPhone maker as well as take shot or two below the belt.
Apple Maps made the list of the "20 Dumbest People, Events, and Things of 2012" amongst President Barack Obama, Mitt Romney, Facebook and more. For Apple's sake, Mad took the route that Apple and CEO Tim Cook took when the company decided to
face the music and apologize for Apple Maps
by writing up a full-page letter to the faithful followers led astray by the new map program.
We particularly like the confidence instilled by citing "more than a dozen people" that trust the application. The recommendation to try folding maps found at gas stations or sneak a peek at an Android phone brought about a chuckle as well. The final summary of the mock letter lets Apple have it with a wincing remark about being a directionless company in the absence of Steve Jobs.
Apple will find its compass again, as soon as Maps tells the company where to look. Click to zoom-in and enjoy the scorching letter below.
via:
CNET