Apple, Google and other tech firms ask the president to leave smartphone encryption alone
14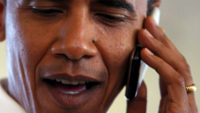 Getting Apple and Google to agree on anything could be a difficult task. But when it comes to protecting the smartphone industry from government intrusion, the two tech titans are willing to work together. Apple, Google and a number of other tech firms have written to the president. The letter asks him not to sign any new laws that would give law enforcement agencies the right to obtain encrypted data from smartphones.
The Washington Post obtained a copy of the letter. Signed by a number of tech firms, the correspondence pleads with the president to support privacy rights. "
Strong encryption is the cornerstone of the modern information economy's security
," says the letter. Of course, the FBI sees things a little differently. Last year, after both Apple and Google said that it would offer smartphone encryption that couldn't be accessed even with a warrant, FBI Director James B. Comey said that he couldn't understand why a company would want to "
market something expressly to allow people to place themselves beyond the law
."
But both the FBI and the Justice Department say that they support encryption as long as law enforcement can get to the data if necessary. But that worries the tech companies who say that in order to please the FBI and the Justice Department, they would have to add "backdoors" to smartphones that would allow the police to get to the data they want. But it would also leave handsets vulnerable to be hacked into.
Ronald L. Rivest, one of the inventors behind the RSA encryption algorithm, worries that once you loosen up security and allow law enforcement to obtain encrypted data, "
you've done great damage to our security infrastructure...once you make exceptions for U.S. law enforcement, you're also making exceptions for the British, the French, the Israelis and the Chinese, and eventually it'll be the North Koreans
," he said.
"It's time for Obama to put an end to these dangerous suggestions that we should deliberately weaken the cybersecurity of Americans' products and services. It's time for America to lead the world toward a more secure future rather than a digital ecosystem riddled with vulnerabilities of our own making."-Kevin Bankston, privacy activist
The issue even has those known for their strong security stances taking the opposite side. Former Bush administration senior policy official at the Department of Homeland Security, Paul Rosenzweig, says "
If I actually thought there was a way to build a U.S.-government-only backdoor, then I might be persuaded. But that's just not reality
."
Thanks for the tip!
source:
WashingtonPost
via
TheVerge