Apple App Store finally getting automatic updates
11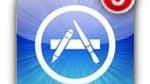 It looks like Apple wants to get rid of the notorious red notification number that you find on app icons in iOS; and, the change is going to start with the iTunes App Store. You won't be seeing the notification number on the app icon in iOS 7, because Apple is finally adding automatic updates to the platform.
This is a feature that has been long overdue, but given the talking points throughout the keynote, it sounds like the reason Apple held back automatic updates is because of concerns about power usage. Earlier in the event when talking about the
full multitasking
that is also finally making it to iOS, Apple noted that one piece of the power-saving to make it possible was "opportunistic updates", which would have apps update in the background when the device was already powered-up rather than waking the device to perform updates. It sounds like that may have been a major issue holding back auto app updates in the App Store.
Still, this should make it much more convenient for users, and also make it a lot better for developers, who should now have more and more users on the newest version of the app. Less tech aware users don't tend to update software as much, and this should fix that issue.
source: Apple