AppDisco searches for the best Android apps and games, so you don't have to
4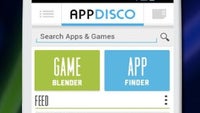 Long time Android users have probably noticed that finding quality apps in the Google Play store has been growing increasingly difficult as of late, especially now that over
700,000 of them have already been published
. Thankfully, there are developers out there dedicated to sorting things out, and we mean that quite literally.
Introducing AppDisco – a handy little piece of software that helps you discover new games and applications based on multiple criteria. You can find new apps by browsing through the number of categories that are listed, or just look for alternatives to the ones that you currently have installed on your Android device.
But when it comes to finding games using AppDisco, things get a whole lot more interesting. The application comes with a feature called Game Blender, which allows the user to choose the traits they demand in a came. For example, one can pick a 3D, first-person shooter with realistic graphics and touch controls from the menu, and a number of quality video games that match these specific criteria will be returned.
Sounds pretty cool, doesn't it? Well, there's a lot more you can do with AppDisco for Android, so feel free to check it out in action in the video embedded below. The application is available for download from the Google Play store.
Download App Disco (Free)

From the same developers who brought you Best Apps Market - the widely-respected discovery app
with more than 5 million installs and a rating of 4.5 from over 40,000 user reviews. The BAM team is
using this wealth of knowledge and experience to help you discover apps in ways never seen before
with the launch of it's AppDisco Beta

With AppDisco you can create your own personal app store with only the stuff you care about. Powered
by the Game Genome Project, we give you exclusive tools to find up-and-coming games and apps,
create playlists, and get automatically notified when new apps you care about are released. Be one of
the first to try this exciting, new Beta. Please give feedback, as it will only help us grow.

AppDisco makes app discovery fun again!! Get daily access to the apps and games you'll love through
your own tailored feed. Stay ahead of the curve as the content you want comes directly to your device –
you may never have to search again! Intelligent recommendation tools and a never-before-seen
discovery system, made possible by the revolutionary Game Genome Project, will help you discover a
world of mobile possibilities that you didn't even know existed. With thousands of apps tagged with
hundreds of unique traits, mobile app discovery has never been easier or more fun!

KEY FEATURES:

PERSONALIZED FEED
AppDisco will grow with your choices and display personalized content on your homepage as you
build your library.

NOTIFICATIONS YOU WANT
It's your choice! Decide what you want to be notified about and let the fun come to you!

CREATE YOUR OWN PLAYLISTS
You know what you like – build your own lists and always see what you like regardless of installs or
popularity. Make AppDisco your own personal app store.

GAME BLENDER
We put the power of the Game Genome Project in your hands. Search for games based on hundreds of
traits and millions of possible combinations like "3D + Undead + Realistic Visuals + Fast Play +
Multiplayer." It's like a Pandora for mobile games. Save your searches and make them playlists.

APPS FINDER
We've reviewed thousands of apps and categorized them in an easy to find way so you always make
the right choice.

EDITORIAL TOP LISTS
Our editors' handpick the best the market has to offer and make it all available to you in lists based on
actual likes, not generic categories.

APPS MANAGER
AppDisco is a multi-faceted utility app. Manage your apps in an easy to use interface that lets you
Share with your Facebook Friends or Twitter Followers, Uninstall, Move2sd, and more!