App Store downloads soar pass the 3 billion mark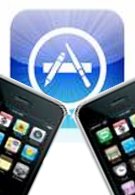 Apple has recently announced that its very own App Store has reached yet another milestone – the three billion mark. Steve Jobs has gone on to say that "Three billion applications downloaded in less than 18 months – this is like nothing we've ever seen before." There is no denying how the App Store has solidified itself a place in the mobile landscape thanks to the way it was marketed and perceived by everyone. Jobs goes on to state that "The revolutionary App Store offers iPhone and iPod touch users an experience unlike anything else available on other mobile devices, and we see no signs of the competition catching up anytime soon." That statement clearly defines the staying power that the App Store has over its competition – although Android is catching up to the mainstream and is also rapidly growing.
Thanks to its availability to customers in over 77 countries, it has a lot of exposure when it's broken down to various categories. Back in late September, Apple revealed that over 2 billion apps were downloaded – now in just a matter of 3 months; it has managed to tack on an additional 1 billion. Breaking down the numbers, roughly over 10.1 million apps have been downloaded in the last 99 days – that's up from the 6.9 million download per day that Apple obtained from April to July.
via
AppleInsider