Angry Birds and many other Xbox Live games for Windows Phone are now permanently reduced to 99 cents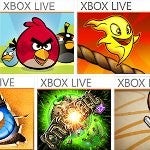 With the launch of the
Nokia Lumia 900
, which really sheds some light on Microsoft's ever evolving mobile platform, we're seeing a total of seven gaming titles on Windows Phone that are getting some much-needed permanent price drops to make them oh-so affordable to buy.
Out of the entire bunch on the list,
Angry Birds
probably stands out most prominently, but it's nice to see it and six other titles dropping down to a mere
99 cents
. As for the others, it includes
Burn the Rope, De Blob, Doodle God, IonBallEX, Max the Magic Marker, and Toy Soldiers: Boot Camp
. As we've mentioned already, it seems that these permanent price drops on these titles coincide with the Nokia Lumia 900's release,
As the platform continues to build is user base, we can only hope to see more 99 cent games on the Marketplace right from the start – as opposed to games that are $5 and up.
via
WP Central