Angry Birds Seasons: Easter update hits app stores just before the holidays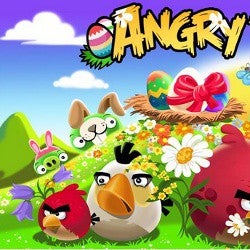 Weeks after the release of Angry Birds Rio, just in time to feed your game addiction, Angry Birds Seasons: Easter, anupdate to Angry Birds Seasons, arrives bringing 15 new egg-poppingfun levels featuring the familiar set of upset birds facingbunny-clad pigs as the arch-enemy. This update is free for owners ofthe Angry Birds Seasons edition in both its phone and tabletoptimized versions for iDevices, while for Android an ad-sponsorededition of Seasons edition was initially available for free. Three Eastery golden eggs can also be unlocked adding challenge to the fun.

Folks from Rovio aredefinitely not letting the hype die down - after Halloween,Christmas, Valentine's Day and St. Patrick's Day updates, what couldbe next?
Download links:
Angry Birds Seasons on Android Market, free

Angry Birds Seasons on iTunes, $0.99

Angry Birds Seasons HD on iTunes (for iPad), $1.99