Angry Birds 2 passes 20 million downloads in one week
9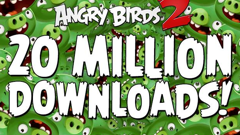 Available
since July 30
on Android and iOS, Angry Birds 2 - the true sequel to the original Angry Birds from 2009 - is definitely a hit. Rovio today announced that the new game has been already downloaded 20 million times.
According to Rovio, Angry Birds 2 is currently the no. 1 iOS game in 100 countries, while also being the most downloaded game on Android. Interesting facts: since the launch of the game, the slingshot in Angry Birds 2 has been used more than 1.4 billion times, and users have completed over 300 million levels.
Rovio says that Angry Birds is hugely popular in the markets where the original game first became a hit, but it's also becoming well-known in China, where "a new generation of gamers" are only now discovering the addictive game. There are more than 700 million smartphone users in China, which means that Angry Birds 2 could soon break new download records.
We already
reviewed Angry Birds 2
, and found the game quite appealing, though in-app purchases are unsurprisingly a minus (
not just for us
). What about you? Have you tried the latest Angry Birds?
source:
Rovio