Android users expected to experience SkyFire soon
This article contains unofficial information.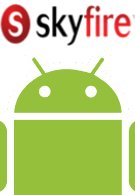 If Android weren't home to some premier web browsers already, one of the most popular ones to grace the Windows Mobile and BlackBerry platforms is about to make its appearance. SkyFire users have long enjoyed all wonders the proxy-based web browser has to offer – page loads are lightning quick and replicate the desktop experience intricately on a mobile handset. The Android version of the application is in the early stages and is now available in alpha form, but they're in the process of offering invitations for Android users who want to experience it. Even though there still might be some bugs or issues expected with the alpha release, the invitations are limited and not everyone will be able to get a crack at it – so you'd better hurry up and sign up.
source:
SkyFire
via
Android Central