Android to get support for multiple users
26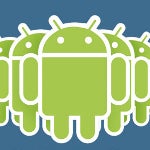 It looks like Google is slowly adding specific code to Android that will eventually be used to enable multi-user support in the operating system.
That was found out by AndroidPolice, with a bit of help from a CyanogenMod developer.
Apparently, a new method to the code of the Android lockscreen has been added recently, which reads: "
onUserChanged(int userId)
". This has served as a catalyst for the discovery of a number of other pieces of code scattered around the OS, all of which hinting at the eventual arrival of the feature. For example, in a commit to the Android source code called "
Plumbing in PackageManager and installd for multi-user support
," it's clearly visible that there's a new "user" subfolder inside the "data" directory, which is usually used to store app data.
Unfortunately, no graphics have been found to add some substance to the abstraction of all this code. Still, it might as well be too early for Google to announce this feature, considering the fact that 4.1 Jelly Bean, the latest version of the OS, launched this month. Oh well, maybe next year users of a single tablet will have a way to switch their virtual users easily (because we can't see too many phone users taking advantage of this feature).
source:
AndroidPolice
via
Neowin