Android the favorite model of those who use their phone while driving the porcelain bus
19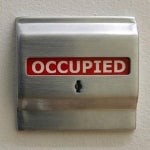 Marketing agency 11Mark took a survey and found out that more owners of Android phones are using their handset
while driving the porcelain bus
. 87% of Android users have their phone in hand while taking care of business. And since it is business that is being taken care of, perhaps it is no surprise that 84% of BlackBerry users are guilty of doing the same thing. "Only" 77% of Apple iPhone users admitted to using their phone in the john.
Both sexes are guilty of this. 74% of men and 76% of women are whipping out their smartphone when the vacancy sign on the stall door turns to occupied. So what are people doing with their phones while in the loo? 75% of BlackBerry users are taking a call. 67% of Android users and 60% of iPhone users said they do the same thing.
Next time you need to borrow someone's Android, BlackBerry or Apple iPhone model, keep these statistics in mind.
source:
MSNBC
via
SlashGear