Android numbers show KitKat more than doubles its share to over 5%
32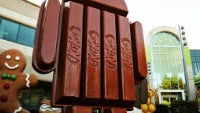 It's the first of the month, which means that it is once again time for the updated Android platform distribution numbers. The aim of these numbers are to let developers know where to aim their efforts, because the numbers are based on devices that access the Google Play Store. This month was a big one for Android 4.4 KitKat, which more than doubled its market share.
The jump in market share for KitKat can likely be attributed mostly to the continuing 4.4 update rollout pushed by Samsung for the Galaxy Note 3 and Galaxy S4 and perhaps also because of the growing
Moto G
market, because it is quite unlikely that Nexus devices suddenly saw a huge jump in sales. KitKat is now at 5.3%, up from just 2.5% to begin
March
. And, KitKat wasn't just the big winner for the Android ecosystem in March, it was the only nickname of Android to see an increase.
Android 4.2.x went up from 17.1% to 18.1%, but Jelly Bean as a whole dropped from 62% to 61.4%. Similarly, Ice Cream Sandwich was down to 14.3% from 15.2%; and, Gingerbread continued its decline to 17.8% from 19.0%, which continues to solidify the idea that developers really need not bother with Android 2.x anymore, and can focus on Android 4.x.