Android market share surges to commanding 90% of China's smartphone market
22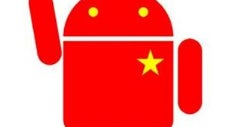 Once upon a time, Symbian ruled supreme in China. Then, Nokia adopted Windows Phone, and Symbian fell off a cliff. And if there is one story of complete market capitalization that is of
Android eating up Symbian's share in China
.
Google's platform now has increased its market share to more than the mind boggling 90% in the world's most populous country, according to the latest report by Analysis International. The share is likely even higher, but the analysts don't count knock-off Android devices.
Just last year Android's share of the Chinese market was 58.2%, so that is some very, very impressive growth.
While Symbian was the biggest loser in China, the iPhone has also lost market share and now has a tiny 4.2% of the market, down from 6% last year.
And just how much did Symbian lose? Catastrophic does not describe it well enough - it slumped to 2.4% in Q3 2012 down from 31.5% in Q2 2011.
Still Android's rise in China does not necessarily translate into huge gains for Google. China is actually blocking many of the company's services.
source:
The Next Web