Android malware perspective: only 0.5% comes from the Play Store
25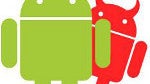 There has been a lot of chatter recently about how Android is a haven for malware, and how malware on the platform has exploded recently. As we've talked about before, the reality is that supposed malware isn't really as much of a
threat on Android
as many make it out to be, and new numbers bear that out by showing that an incredibly small amount of malware comes from the Google Play Store.
A lot of the buzz comes from the heads of competing platforms (always the most unbiased sources) like
Steve Ballmer
, but a recent report from F-Secure also gets a good amount of credit. F-Secure's recent report claimed that in Q3 of 2012 jumped more than 10x, from just over 5,000 instances in Q2, to over 51,000 in Q3. This is a pretty menacing statistic until you give it a bit of context.
The necessary context? Of the 51,447 examples of malware discovered by the security firm last quarter, only 146 came from the Google Play store. That means that the main source for apps for most users only was found to have 0.5% of all the malware found. Sure, if you're living in China and using a bootleg non-Google Android device, and constantly sideloading apps, you may be at a higher risk. Of course, if you're in that situation, it may be a good idea to be more vigilant, since you are responsible for being sure the app you've got is trustworthy, at least until you get Android 4.2, which will
scan sideloaded apps
for malware.
Even more context: of the 51,447 examples of malware, 55.2% were malicious and the remaining 44.8% were simply deemed "risky". So, yes, malware is bad, but not all of it is actively trying to steal your data. And, beyond that there are actually fewer types of malware, or "families" of malware than there used to be, which is a good sign.
Perspective and context are amazing things, eh? They always tend to make fearmongering that much more difficult.
Recommended Stories