Android lost market share in the U.S. last month, according to Nielsen's smartphone survey
34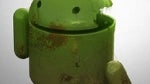 The latest Nielsen survey on U.S. smartphone use is in and the Android OS slipped 1 percentage point to a 36% share since March. That is the
first
drop
in Android's slice of the smartphone pie in recent memory. The Apple iPhone was unable to take advantage of Android's drop as that device also lost 1 point and weighed in with a 26% share of the U.S. smartphone market. BlackBerry reversed recent trends and tacked on 1 point to hold a 23% stake in the U.S.
Windows Phone 7 has just a 1% share in the last survey. Ironically, while the latter has just about totally replaced Windows Mobile in stores, current usage stats show that the older Windows Mobile OS has a 9% share of currently used smartphones in the States. That is good enough to be the fourth most currently used OS in the States after the Big Three of
Wade, James and Bosh
Android
,
iOS
and
BlackBerry
. Besides Windows Phone 7, other bottom feeders include the now defunct Palm OS, also with a 1% share. Symbian and webOS each owns a 2% share in the U.S smartphone market.
As for the decline in Android's market share, many say the cause is Verizon's launch of its
long awaited
Apple iPhone 4. Big Red is said to have sold 2.2 million units and its presence on Verizon allowed those who wanted an iPhone to get one without having to switch to AT&T. With Apple's iconic device available at Verizon, some of the advertising dollars that the carrier might have spent promoting Android phones instead went to push the iPhone.
Interestingly enough, Nielsen also found that Android users are
more
data intensive than iPhone owners. The average Android owner uses 582MB of data per month vs. the average 492MB used by Apple iPhone users. BlackBerry owners used an average of only 127MB of data monthly, partly because of the way RIM compresses data, but also because of the subpar browser on many BlackBerry devices.
In an another interesting statistic, Android and iOS users tend to watch
more
video on their device than those using a webOS or Windows Phone 7 handset. While 35% of those with an Android phone, and 37% of those with an Apple iPhone, watch video or television on their device, only 26% of those whose phone runs webOS or Windows Phone 7 use their handset to watch video or T.V.
source:
electronista
Recommended Stories