Android founder Andy Rubin confesses platform was originally intended for "smart cameras"
22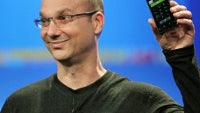 Android's founders originally wanted to create a platform powering a future of "smart cameras" that would easily sync with computers, but the cell phone boom changed this original intent.
"The exact same platform, the exact same operating system we built for cameras, that became Android for cellphones,"
Android's co-founder Andy Rubin said.
Rubin showed visitors of the economic forum in Tokyo slides with the first marketing pitch for Android from April 2004 where he speaks of a camera hooked up "wired or wireless" to a computer connected to an "Android Datacenter."
However, in a couple of months after that it became clearer that cameras are on a downward trend and the pitch changed to
"open-source handset solution."
Rubin also confessed some interesting things about what he thought was competition at the time:
"We decided digital cameras wasn't actually a big enough market,"
said Rubin.
"I was worried about Microsoft and I was worried about Symbian, I wasn't worried about iPhone yet."
While that is an interesting thing to say, there is another important detail to Android. It was designed to be mass-market from the onset:
"We wanted as many cellphones to use Android as possible. So instead of charging $99, or $59, or $69, to Android, we gave it away for free, because we knew the industry was price sensitive,"
he said.
As to the future, Rubin promised that while he
won't head Android
he'd continue bringing products for consumers:
"I can pretty much guarantee you that whatever I do next it's going to be something that delights consumers."
source:
PC World
Recommended Stories