Android and iOS get compared side by side for the bazillionth time
60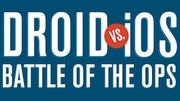 Believe it or not, the smartphone that you use can actually reveal quite a lot about yourself. Not too sure about that? Well, going through the infographic that the guys at
Hunch
have put together might just be what will change your point of view.
The research puts Andorid and iOS users side by side and compares a number of their characteristics ranging from income and education to food and drink preferences. Although some of the facts that the infographic outlines are not that surprising, namely that iDevice owners tend to have higher wages and would almost certainly own a Mac, other discoveries that the research came up with are quite interesting.
For example, a typical Android user is likely to have used the Internet for the first time after the year 2000, while iPhone and iPad owners have been privileged to check out the web before 1992. That is probably due to the fact that members of team Android are usually well under 34 years of age while the folks in the iOS camp are way more likely to be 35 and above.
Although knowing this would not make you the smartest person on Earth, it is fun knowing that Android fans would much rather pick a device based on its hardware specs irregardless of its looks. On the other hand, iOS users prefer sleek and shiny handsets with the hardware inside them having a lesser effect on their decision.
Okay, we will stop spoiling the fun now and will not go into further details. Feel free to check out the infographic yourselves and do not hesitate to share with us whether it has succeeded in describing you as a member of either categories.
source:
Hunch
via
DailyMobile