Android Lollipop stands strong, according to Google's Android distribution stats
31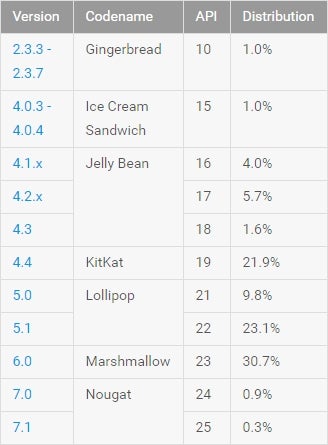 Android Froyo finally died last month
, making Gingerbread the oldest active Android version, according to Google's official stats. And while this month's numbers paint a rather boring and predictable picture, they still hide some small surprises.
Android Lollipop still stands strong as the unchallenged king among its brethren, with version 5.0 taking 9.8% of the distribution numbers, while 5.1 stands at 23.1%. With this, the grand total for Lollipop comes to 32.9%, which is a decline of 0.5% from last month.
In the meantime, Android 6.0 Marshmallow is quickly catching up with the long-reigning Lollipop monarch, and now accounts for 30.7% of Google's distribution chart. If the trend of the last three months continues, April distribution charts should crown Marshmallow as king of Android Land.
What's also exciting is that Android Nougat broke the 1% mark for the first time, with 7.0 holding 0.9%, and 7.1 – 0.3% for a total of 1.2%.
All older Android versions have suffered a decline of between 0.1% and 0.7%, compared to last month, except for the oldest one – Gingerbread – that hovers at the same 1.0% from January.
source:
Android Developers
via
AndroidPolice