Android L preview images updated for Nexus 5 and 7 (2013) with Google Fit support
6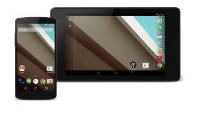 For a while there, it was deemed unlikely that Google would be updating the Android L preview images that it had posted for developers and enthusiasts to play around with, but today has brought us a surprise. Google has indeed updated the Android L preview images for the Nexus 5 and the 2013 Nexus 7.
The update doesn't appear to be a huge step forward. It brings the version number from LPV79 to LPV81C, which means that it is the build from two days after the first. The update is focused on the Google Fit APIs, given that Google just released the
Fit SDK
today, and you will need to be running this new version of Android L if you want to test out any apps that take advantage of the Google Fit APIs. Otherwise, the update won't contain much more than a mess of bug fixes and performance updates, but there could be more to it. At the very least, it should help to bring Android L a bit closer to being ready to be your stable daily driver. It is still beta software though, so the usual precautions exist.
If you're going to flash, be sure to back up anything important. And, if possible, don't install the preview on your main device until you've tested it out to make sure it is stable enough. We'll be checking for anything else new in the update and we'll let you know if we find anything.
Recommended Stories