Android 4.4.4 soak test rolls out for Motorola DROID MAXX, DROID Ultra and DROID Mini
10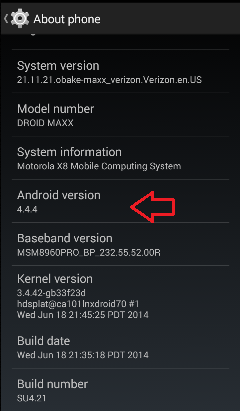 Android 4.4.4 is being soak tested on the Motorola DROID MAXX, DROID Ultra and DROID Mini
Tonight, we have some good news for Motorola DROID fans. Motorola is skipping Android 4.4.3 and going straight to Android 4.4.4 for its 2013 released trio of Motorola DROID handsets (remember when it was fashionable to call them MotoDroids?). Members of the Motorola Feedback Network, which is usually the group from which soak test participants are taken from, are starting to receive Android 4.4.4 for their
Motorola DROID MAXX
,
Motorola DROID Ultra
and
Motorola DROID Mini
.
This is not a lightweight update, weighing in at 285MB. Heck, your distant relative who recently had a C-section, gave birth to something smaller. The update improves the performance of the camera, brings a fix for visual voicemail, and adds compatibility to the ISIS mobile payment system.
Motorola likes to do these soak tests because if something goes wrong, a smaller number of phones are bricked. Seriously though, by keeping the update isolated to a smaller number, it is easier to find and correct any mistakes, and it also means that Motorola's financial risk might be lower than if everyone's DROID were to be updated at the same time. Not that we expect any mistakes. And once the soak test is out of the way with a passing score, those of you not on the Motorola Feedback Network can start to receive Android 4.4.4.
source:
AndroidCentral