Android 4.3 coming to Samsung Galaxy S III and S4 in October
29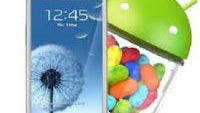 If history is our guide, Google should be showing off new Nexus devices (possibly more than one phone?) in October or November, which is when we are also likely to see
Android 4.4 KitKat
. With that said, Samsung has announced that it will be updating the Samsung Galaxy S III and Galaxy S4 to Android 4.3 Jelly Bean sometime in October.
Of course, maybe it's just us, but it feels like the turnaround has been a bit quicker for Samsung this time around; and, we can't help but wonder if that has anything to do with Samsung being part of the Google Edition program. Perhaps the company has learned better ways to update faster? We'll have to wait and see how a more major upgrade like Android 4.4 KitKat goes before truly saying one way or the other.
Unfortunately, Samsung didn't mention any other devices; so, we have no idea when to expect the Android 4.3 Jelly Bean update for the Galaxy Note II. At least the
Galaxy Note 3
, and the
Galaxy Note 10.1
(2014 edition) both come with Android 4.3 pre-installed, so we don't have to worry about those.