And here's an ICS tablet for 60 bucks
12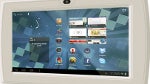 If you are on a very tight budget, or simply don't feel like spending north of $99 for a tablet, the Matrix One might be just the right model for you. Initially sold for the affordable price of $90, the Matrix One tablet by Digital Merchandise Marketing (DMM) has now been discounted to $59, making it a pretty decent deal.
Sure, you can't expect wonders at this price, so naturally the Matrix One isn't the most impressive device on paper. With a screen of 7 inches and WVGA resolution, 512MB RAM and a single-core A8 1.5GHz processor, the Matrix One certainly won't blow you mind. Still, the user experience may actually be OK, considering that it's running Android 4.0.3 ICS. Plus, it doesn't have any additional software layers to eat up system resources. As a matter of fact, it's coming rooted out of the box, which is an interesting feature. Some of its other goodies include Wi-Fi, 4GB internal storage, microSD slot, microUSB, full-sized USB port, mini HDMI and a 2MP front-facing camera for video chats and other stuff.
If you like what you see, you can order the DMM Matrix One tablet
right here
. Did you order yours already?
via:
Engadget