And here's a quad-core, 5.3-inch Android smartphone for only $160
28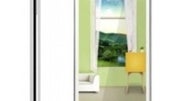 Ever heard of Neo? Neither have we, but apparently, the company's popularity is growing in its homeland market – China. It makes affordable Android smartphones that seem quite good on paper. Perhaps even too good, as a matter of fact.
Take a look at the Neo N003, for example: it has not been announced officially yet, but its specs and retail pricing have been leaked. The smartphone will offer a quad-core processor, 5.3-inch 720p display, 13MP main camera and a 3,000mAh battery. Specs like these would assume a steep price tag, yet the Neo N003 will cost mere 1,000 yuan (about $160).
What witchcraft is this? Well, don't forget that
hardware specs aren't everything.
That quad-core CPU is a MediaTek MT6589
, which has considerably less raw horsepower than the quad-core SoCs popularly used in high-end smartphones today. A 3,000mAh cell does not guarantee long battery life since factors like power consumption and usage also come into play. And a 13MP camera won't produce quality images if the sensor and optics are of low quality.
Still, the Neo N003 might be an overall great handset considering its low price, but buyers are advised to not expect miracles out of it. The smartphone is expected to be announced in March and then hit retail shelves a month or two later.