Quad-core MediaTek MT6589 SoC gets benchmarked, to debut in early 2013
18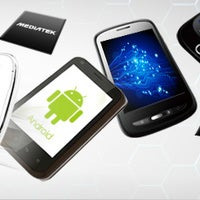 Several days ago, MediaTek announced its first quad-core SoC. The MT6589, as it is called, packs four Cortex-A7 processor cores and PowerVR SGX544 graphics, which allows it to handle 720p screens, 13MP cameras, and 1080p playback.
Now, about that MediaTek MT6589 SoC, its four cores can run at up to 1.2GHz. At the same time, the quad-core competition – the Tegra 3 by NVIDIA, Exynos by Samsung, and the Snapdragon S4 Pro, to name a few, clocks its silicon at 1.4GHz and beyond. Furthermore, those Cortex-A7 processor cores are less potent than what is used in other quad-core chips. As a result, it isn't surprising that the MT6589 doesn't score quite as high when benchmarked, although its performance is still more than satisfactory. However, MediaTek's quad-core solution makes up for it by being efficient when it comes to power management and heat dissipation.
At this time, it is still unclear whether any other major smartphone manufacturer would consider using any of MediaTek's chips in its products. The MT6589 is expected to make its commercial debut in Q1 of 2013.