Analysts urge the mobile industry to drop astronomical growth delusions
6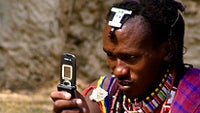 The mobile industry has enjoyed tremendous growth and fierce competition in the last couple of years as it shifted focus from sellind a sole device to selling an ecosystem, but
times of crazy operating margins are coming to an end
, research group Ovum projects. In its latest report, the company estimates that the number of mobile connections will increase from 6 billion this year to 7.8 billion next year, a growth of 30%. But revenues won't grow that quickly rising by just 10% to $1.047 trillion.
"Any delusions that this industry will continue to grow astronomically have to be thrown out of the window now,"
Ovum's Emeka Obiodu, who penned the report says.
"We can safely say that the telecoms industry is now mature, and what we have here is a utility sector. It is all about paying healthy dividends to your shareholders and defending your turf."
While this seems evident when applied to Western markets, it wouldn't apply that much to Africa and Asia, where the industry is expected to add the most new connections. Mobile connections in Africa for once will grow by the whopping 9%, but revenue will lag behind increasing by only 5%.
At the same time,
the US will be growing at the fastest rate amongst mature markets
. Western Europe however will reportedly disappoint becoming the worst performer and the sole one to experience a decline in revenues.
Ovum also states what most of us would agree on - we'll need
more data and less voice service
. Carriers will have to face that new reality as voice revenues are projected to go down from 69% to only 60% of all revenue in 2016, cannibalized by data growing to 40%, up from 31% now. There's a couple of reasons for that, but we would focus on VoIP apps like Skype and Viber, which are now being offered across various platforms.
So how could mobile carriers survive in such hostile for profits environment? Ovum argues that it's keeping their customers that will be of utmost importance, while getting new subscriptions will depend mostly on
brand strength
. The report puzzingly downplays quality as a factor, something which might not be necessarily true when it comes to developing technologies like 4G LTE. Summing up the whole report however pains the picture in mostly dark colors - more data, less revenues for telcos. Do you agree with such prospect? Chime in with your opinion in the comments below.