Analysts suggest Intel hands Apple the keys to its Arizona semiconductor facility
18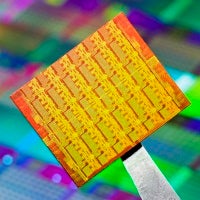 Intel is forced to make compromises.Not only was 2013 a third consecutive year of troubled sales acrossmost departments handled by the chip-maker, but the company predicts2014 will be another year of stalled growth in the integrated circuit(IC) market. Meanwhile, analysts say IC will remain a perspectivefield, which could expand its sales volume by 7% this year. InJanuary, the chip maker said that it will postpone equipping itsnewly built Fab 42 facility in Chandler, Arizona. This cutting-edgefactory, worth $5 billion, was intended to produce up to 40,000 300mmchip wafers monthly. It was going to be the first to utilize a 14nmproduction process, and set to escalate to 10nm once 14nm productionramped up. Yet, it appears it won't open anytime soon...
...unless Intel does asanalytics company IC Insights suggests, and lend it to a competingcompany - possibly Apple. After its relationship with Samsung wentsour, the iPhone maker made moves to distance itself from the Koreancompany. Eventually, it wants to completely sever its manufacturingand business ties with it. Yet, in 2013, Sammyremained Apple's leading silicon supplier, producing up to $3.4billion worth of chips for Cupertino. Meanwhile, Apple's other CPUcontractors, TSMC (Taiwan) and Globalfoundries (Singapore), areunable to fully meet demand. TSMC, in particular, is unwilling todedicate an entire facility to a single client, no-matter that it'sApple knocking on its doors.
IC Insights believes Intel is in acomfortable, and vulnerable enoughposition to consider commissioning a whole factory, outfitted withthe latest and greatest in chip-making technology, to a huge client.According to the analysts, Intel is "approximately one yearahead of both Samsung and TSMC in terms of IC process technology".This is a circumstance that could see Apple gaining "significantperformance advantage" and Intel making a tidy profit, if thetwo were to strike a deal.
As powerful as it is, Intel hasn't beenable to establish itself in the crucial mobile chipset market.Meanwhile, shipments of personal computers have been steadily fallingsince 2010. Furthermore, the competition (AMD) has been takingadvantage of ARM-based processors to dismount the company's dominancein the server segment. Intel is pressured into taking desperatemeasures, such as paying tablet manufacturers the difference betweenits newest Atom-based Bay Trail CPU and an ARM processor, should themanufacturer choose to opt for the former. This strategy could costthe chipset maker an estimated $500 million through 2014.
Intel and Apple haven't commented on apossible deal.
source: ICInsights via DigiTimes