Analysts have two opposite opinions of RIM
2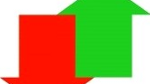 Remember those good ole days when RIM's common stock
traded at $140 a share
? Even with the stock cut in half by this year's first quarter, the company's shares were a favorite for traders. But the Canadian company has fallen on some tough times, with
Apple and Android battling it out for the enterprise customers
that once coveted a
BlackBerry
for its email expertise. After trading on Monday, the stock is now trading at $16.48.
Analyst Shaw Wu, whose name should be familiar to our readers, told his clients at Sterne Agee that he is
downgrading RIM to "Neutral"
from "Buy". A"Neutral" rating is akin to a "Hold" in Wall Street talk and basically is a subtle way to tell his clients to sell their holdings in the Canadian manufacturer.
On the other hand, Scotia Capital analyst Gus Papageorgiou says that RIM is "
absurdly oversold
" and that its products offer
unique features that will help the company stay in business
for some time. Perhaps Mr. Papageorgiou caught our report
on the BlackBerry PlayBook getting sold out at Best Buy
.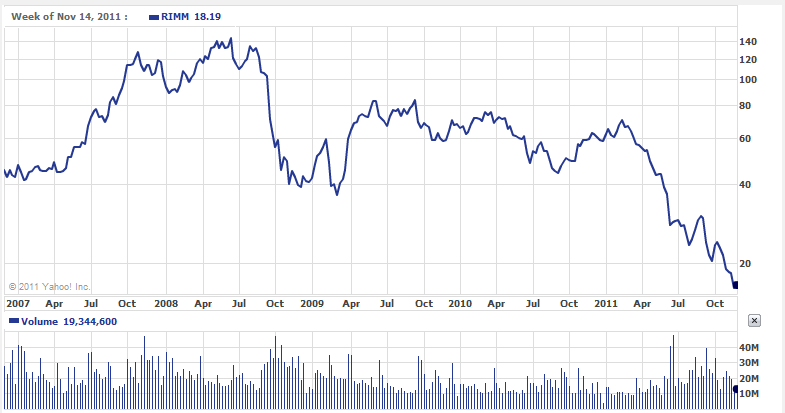 RIM's stock price over the last 5 years (chart courtesy of Yahoo Finance)
RIM's shares
hit a 7 year low on Friday
at $15.98 and things might get worse before getting better. While there is hope that the new BBX powered RIM Superphones could start a new successful chapter for RIM, the company still has to make it past this holiday season with competition from the Apple iPhone and Apple iPad, and a number of Android smartphones with large screens and dual-core processors. Until the
new BBX models
are introduced, BlackBerry models remain woefully outspec'd.
Wu says that RIM's margins are threatened by the competition and he doubts that the company can meet the average estimate of next quarter's earnings produced by analysts. The latest fiscal quarter for RIM ended Saturday and the company is expected to ship between
13.5 and 14.5 million smartphones
in the period. Analysts expect RIM to make $1.22 a share for the just concluded quarter, on sales of $5.31 billion. The company itself ios forecasting earnings between $1.20 and $1.40 a share on revenue of $5.3 to $5.6 billion. Analyst Papageorgiou, who as we said is telling clients that RIM is under priced, is one of the most optimistic analysts, forecasting $1.34 a share.
RIM will report earnings on December 15th.
source:
YahooFinance