Analyst wants a 5" "iPhablet" by year's end
45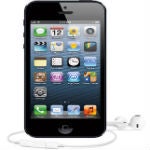 This is the pinnacle of what it means to be an analyst in the tech industry. At some point, you can stop bothering with silly predictions based on reasonable expectations or even inside source rumors. At some point, just say what you want to see and call it a prediction. At least, that seems to be what Barclays Capital's Ben Reitzes is doing in saying that he wants to see a 5" iPhablet by the year's end.
To be clear, there is no real reason to expect a 5" iPhone by year's end. It's just that Reitzes and other analysts think "the time is right" for Apple to release such a product. Of course, given the state of the smartphone market, the time has been right for a larger iPhone for a couple years now. The other issue we have with this "prediction" is that we're not so sure a 5" iPhone would fall into the category of a "phablet" any more. It seems more like people just wanted to use the term "iPhablet".
New flagship Android smartphones are coming in at the 5" mark, and phablets from
Samsung
and
Huawei
are cracking the 6" mark, so we're reluctant to call a 5" iPhone a phablet. a 5" iPhone is just that, a 5" iPhone. A true iPhablet would have to be around the 6" mark to fit between a larger iPhone and the iPad mini, which is 7.9".
Reitzes says the time is right for a larger iPhone because 5" smartphones are going to dominate the market this year (which is true), and because one-handed operation is becoming "less important" because basic phone functions are less important than navigation and other apps. Reitzes echoes the other analysts that are expecting the
iPhone 5S
and a
cheaper iPhone
for emerging markets in the middle of the year, with the 5" iPhone coming at the end of the year. A redesigned
iPhone 6
makes sense at the end of the year, so it is certainly possible, but ultimately this is just a 50/50 prediction based on hope alone.
source:
Barron's