Analyst states the obvious, expects decent tablets to carry a $300 price tag in 2012
5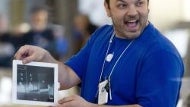 It's a part of every product's lifecycle, and the tablet craze won't get away with it. The trailblazers, like Apple's iPad, earn the lion's share of profits when they disrupt someone's market (think netbooks and low-end laptops). Then the industry players, big and small, start rushing in, and the first competitors also enjoy healthy margins, which Richard Windsor from Nomura Securities pegs at 30% currently for slates like the
Samsung Galaxy Tab 10.1
or the
Motorola Xoom
.
What he predicts, though, is that we'll see the tablet market
get commoditized faster than anything else we've seen
, with margins falling to 10% next year, similar to what the PC industry is making now. This, coupled with some screen manufacturing breakthroughs of late, that will make the most expensive tablet component much cheaper, according to him will lead to $300 starting prices, with possible exception of the iPad line, because of the already established tablet apps ecosystem.
This really isn't some far-fetched deep analysis, considering that now, just a month or two since the first real iPad competitors launched, we already have great tablets in the $400-$450 price range, not to mention some
low-end $250 slates
popping up. When the prices fall down further next year, people who are now asking themselves what use they can find for a tablet that costs as much as a decent laptop, might as well be tempted to get one.
via
CNET
Recommended Stories