Analyst says Apple's global market share could drop below 10% in Q3 without a new iPhone
25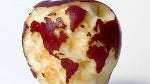 Of course Apple will definitely be announcing a new iPhone by Q3, but the timing of the actual release could mean that its global market share will take a substantial hit. There is a solid chance that we will see the announcement for the iPhone 5S in September, but it may not be released until October. And, according to Toni Sacconaghi of Sanford Bernstein, that could lead to Apple's global market share dropping below 10% in Q3.
The basic premise behind Toni's prediction is sound: while Apple's smartphone sales did grow almost 7% year-on-year, the overall smartphone market grew 36%, so Apple's global market share has dropped year-on-year from 23% to 17%. Given the speed at which the smartphone market is growing, combined with Apple's usual sales lull that comes before a new hardware launch, Apple's market share will shrink.
Mr. Sacconaghi drops the hammer by saying, "Perhaps most startlingly if Apple does not introduce a new iPhone or lower-priced phone in CQ3 [Apple's fiscal Q4], it is quite possible that iPhone's smartphone market share could drop into the single digits." There is a solid chance of that.
But,
it always needs to be mentioned that market share doesn't necessarily correlate to profits
. As we've seen for a couple years now, even with a minority market share worldwide, Apple has consistently been on top or right up there with Samsung as far as profits. And, we also know that even though Apple's sales drop just before a new product launch, its profit margins grow because of supply chain improvements and reduced hardware costs. So, even if Apple's global market share does drop below 10%, we still have to wait and see what kind of trouble that causes for Apple's business.