AnTuTu: the Samsung Galaxy Note 4 was the most popular Android smartphone of Q1 2015
26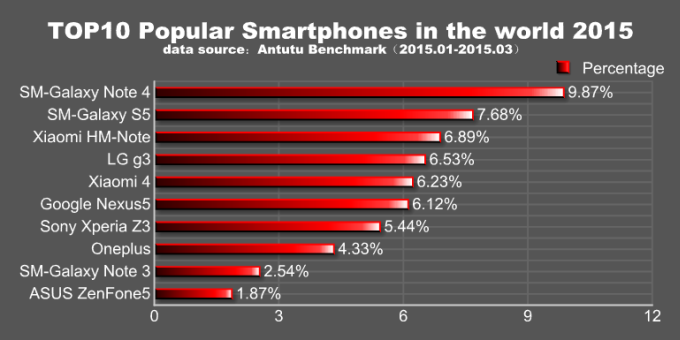 AnTuTu has published a list of the top ten most popular Android smartphones that people from across the globe have used to run the AnTuTu benchmark app on. As it turns out, the most popular Android smartphone of Q1 2015 at the global was the
Samsung Galaxy Note 4
.
9.87 percent out of all the Android smartphones used to run the AnTuTu benchmark app between January 1st and March 31st were some version of the Samsung Galaxy Note 4. The
Samsung Galaxy S5
took the second place with 7.68 percent, while the
Xiaomi Mi Note
took the third place with 6.89 percent. The global top five is completed by the
LG G3
(6.53 percent) and the
Xiaomi Mi 4
(6.23 percent).
AnTuTu has also published the results of its test for several key markets around the globe. In the US, the Galaxy Note 4 wins again with a share of 9.87 percent of all tests, followed by the Galaxy S5, the LG G3, the
Google Nexus 6
and the
OnePlus One
. For details on other markets, follow the source link below.
Although AnTuTu also has benchmark apps for both of the other major mobile operating systems, iOS and Windows Phone, the company only considered Android smartphones for this chart. This is a bit unfortunate, as it would have been very interesting to learn how the iPhone 6 and the larger iPhone 6 Plus compare in the AnTuTu popularity chart.
Recommended Stories