Americans have no idea what 5G is, survey finds, T-Mobile customers most in the know
17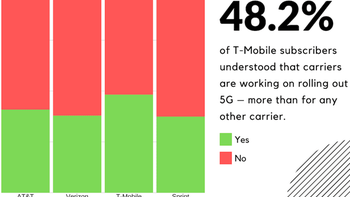 Amidst all the reporting on this or that test market getting 5G connectivity from Verizon, AT&T or T-Mobile, and the onslaught of 5G phones that is arriving next year, it's easy to forget that for most folks this is not a household word.
The latest survey by research firm Waveform took the topical knowledge of 1,039 American adults in a "nationally representative sample," only to make clear that people don't really care about 5G all that much at the moment.
Almost 60% didn't even know that Verizon, AT&T, T-Mobile, and Sprint are working on bringing faster and better cellular connectivity to the unwashed masses, imagine that. The funniest part is that T-Mobile's subscribers were most in the know (48%), while Verizon's, whose commercial 5G network is already operational in testbed locations, came third, only a hair before Sprint's users.
The 5G awareness issue may simply be a question of marketing policies, as T-Mobile has been very aggressive in touting the next-gen standard virtues, especially in light of its eventual merger with Sprint. Just 20$ of the people surveyed, however, are in sync with the benefits that are expected with the 5G rollout, and a full 38% aren't even that excited to learn about it.
When asked about the quality of the cellular signal in their home or workplace, the tallest graph bar falls in the "average" category, except for Verizon users in the "at home" scenario. Those results could mean that the US carriers still have some more work to do to tout the benefits of 5G and make people switch their broadband connections from cables to the towers.