Amazon offers DROID and DROID ERIS for less than Verizon's BOGO deal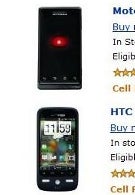 If you're looking to get a bargain this holiday shopping season, no doubt that Verizon has a good deal going with the BOGO promotion it is running with the Android brothers DROID and DROID ERIS. Buy a Motorola DROID or HTC DROID ERIS and get a second ERIS for free. Of course, all the usual conditions like requiring a 2 year contract for each handset, is required. Yeah, that is a great deal, but suppose you could still buy the DROID, get a DROID ERIS and pay $30 less than the figure Big Red wants? Amazon has a deal that will allow you to get exactly the same phones and at the same time, you will save $30 that you can use for other presents.
Through the Amazon web site, you can buy the DROID for $149.99 and the DROID ERIS for $9.99 (of course, two year contracts are required for each phone) and that adds up to $159.98. Through the Verizon BOGO, your cost would be $199.99. Now, we do have to note that Verizon's activation fees for the DROID and DROID ERIS are $35 and $25 respectively, versus the $35 activation fee that Amazon will levy on each phone. That reduces your savings to $30. But hey, $30 is nothing to sneeze at, especially at this time of the year and with the economy still not at full strength. Plus, you will be saving money on gas. The only thing you will miss is the human connection and is getting a few minutes to talk to a Verizon rep really worth $30?.
Motorola DROID Specifications
|
Review
HTC DROID ERIS Specifications
|
Review
source:
androinica