Apple and Google are the top two most valuable brands in wireless tech
8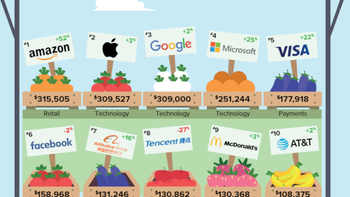 Quick. Name the most valuable brand name in the world. Apple? nope. Google? That answer is so 2018.
According to the 2019 BrandZ Top 100 Most Valuable Global Brands rankings
computed by WPP and Kantar, Amazon is the most valuable brand with a value of $315 billion. Since the report considers Amazon to be a retailer, Apple is the leader among tech brands just edging out Google with valuations of $309.5 billion and $309 billion respectively. Google was the most valuable overall brand last year.
Besides Apple and Google, other wireless giants in the top ten include Microsoft (#4, valued at $251.2 billion), Facebook (#6, $159 billion), and AT&T (#10, $108 billion). The value of Microsoft's brand rose 25% from last year while more modest gains were seen for Apple (+3%) and Google (+2%). The value of brands in the tech sector rose 4% on an annual basis while telecom providers saw their brands increase by 1%.
Looking at the remaining names on the list, those with a connection to the wireless industry include Verizon (#11), Xfinity (#20), T-Mobile (#25), China Mobile (#27), Intel (#36), Samsung (#38), YouTube (#39), Instagram (#44), Adobe (#45), Huawei (#47), Vodafone (#49), LinkedIn (#58), Xiaomi (#74) and HP (#93).
Xiaomi made the Top 100 for the first time at number 74. The brand is estimated to be worth $19.8 billion. Among the fastest rising brands, Instagram led everyone with a 95% year-over-year increase that took the valuation of the Instagram name to $28.2 billion. Adobe (+57% to $27.9 billion) and LinkedIn (+46% to $22.8 billion) also were among the brands having the largest increase in value from 2018 to 2019.