Amazon Kindle Fire impressions grow at a stunning rate, Android loses share in November
14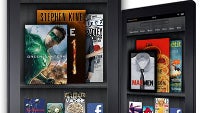 The
Amazon Kindle Fire
showed impressive growth in the first weeks of its availability with impressions on Millenial's US ad network growing by the whopping 19% on average daily.
At such a rate, the Fire outpaces the
iPad's growth
, but even with such tremendous popularity of Amazon's Android-based tablet, Google's platform recorded one of its biggest slides going down to around 50%. iOS and, surprisingly, RIM's BlackBerry platforms both grew in return in November.
Android
however is still an undisputed leader capturing half of the market, followed by iOS with a healthy 30% and BlackBerry with 17%. Together, the three platforms occupy 97% of all the impressions on Millenial's ad network.
On the manufacturer side of things,
Apple
reined supreme with a 25.7% piece of the pie. The biggest loser there was HTC with its share tumbling to only 12.6%, down from 18.1% in October. Runners-up to Apple were Samsung with 17.5% and RIM with 14.6%.