Amazon thinks you're willing to pay $1,500 for a Google Pixel XL
35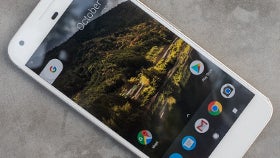 It's not easy to buy a
Google Pixel XL
in the US, as demand is currently outstripping supply. The phone is out of stock at the Google Store, as well as at Best Buy, and while you can order it from Verizon, the carrier says it can't ship it before March. Thus, some customers may be willing to pay a bit more just to get their hands on a Pixel XL right away.
But how does $1,500 for a Pixel XL sound? Believe it or not, Amazon is currently offering the 128 GB variant of the Pixel XL (unlocked) for the crazy price of $1,518.54. Normally, an unlocked Pixel XL 128 GB costs $869, so that's $649 over its standard price (you could buy a regular Pixel with that extra money).
Mind you, the $1,518.54 Pixel XL 128 GB is offered directly by Amazon, not by a third party seller. The 32 GB variant of the handset is also more expensive than it should be, costing $919.99 (instead of $769). Well, at least Amazon is offering free shipping.
Would you be willing to pay $1,500 for a Pixel XL 128 GB, or $919 for the 32 GB model?