Amazon Fire Phone unboxing
13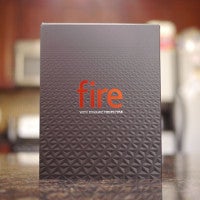 If you've come across Amazon's web site in the last few days, then you know exactly what they've been advertising a lot of late. There should be no surprise at all to see the Amazon Fire Phone in the face of shoppers on its site, as we're nearing the
inevitable launch of the smartphone
. Luckily, the handset in question came knocking on our door, so it's only fitting to show you folks what early adopters are going to be treated to.
First and foremost, the packaging is already selling the Amazon Fire Phone's most notable, stand out feature – its dynamic perspective display. In fact, the raised triangular pattern of the outer sleeve kind of mimics that functionality. Tilting it to different angles, we can see how the shadows cover certain triangles to emulate that dynamic perspective. Beyond that, we're treated to the usual logos, names, and a listing of what's packaged along with the box.
For a $200 on-contract priced phone, the Amazon Fire Phone is stuffed with the usual assortment of goodies – like the setup guide, microUSB cable, wall charger, and stereo headphones. With the latter, Amazon has included a slick pair of headphones, which sports a rubbery finish to give it a tangle-free property. Interestingly, they've also incorporated a magnetic connection that snaps the two buds together so they're not constantly being dangled independently.
No doubt, we're itching to put the phone through its paces, so we'll be doing some testing over the course of the next few days to see if it can tangle with some of the greats in the space. Expect our review soon! In the meantime, don't forget to check out our unboxing video below to see what's in store – that's if you've already snagged a pre-order, or potentially thinking about buying it come launch day.