Amazon Echo 2nd-gen versus Amazon Echo Dot: Which one should you buy?
3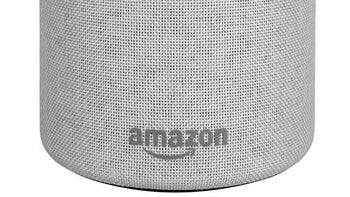 If you're on the market for a smart speaker right now, you're certainly having way more options than similarly-fated consumers had a year ago. The reason for that is simple: Apple, Google, and most big tech companies have either entered the market with a splash or are planning to. Heck, even popular music streaming service Spotify is heavily rumored to be developing a music-centric smart speaker on its own, too.
However, if you're really serious about getting yourself a smart speaker, you've probably spent a good amount of time researching Amazon's Alexa-powered offerings, and rightly so - the retail giant has a rather large presence in the field. Two of Amazon's smart speakers, namely the Echo 2nd-gen and the Echo Spot, are quite inviting options.
Admittedly, the two are currently the best all-around smart speakers in Amazon's lineup, so it makes perfect sense that we'd want to help you make up your mind by comparing the specs, features, and overall value for money of both the Amazon Echo 2nd-gen and the Echo Spot.
Purpose
Amazon Echo 2nd-gen
The Amazon Echo is quite possibly the prime candidate for the posterchild smart speaker. The 2nd-gen of the gadget improves on its precursor in quite some many ways, namely by sporting a brand new speaker, new design, and a bunch of cool new styles like fabrics and wood veneers that will let consumers match the gadget with the overall style of their home interior. It's a classic smart speaker in a sense that it aims to be your one-stop shop for all smart-speaker related business. Probably the most exciting aspect of the Echo is its large speaker with Dolby processing that makes it stand out among Amazon's smart speakers.





Amazon Echo Dot
The Echo Do, on the other hand, is mostly similar to the larger Echo but is mostly intended as a sidekick smart speaker for other rooms where your main Echo speaker can't be accessed. Thusly, it's safe to say that the main purpose of the Echo Dot is to merely expand Alexa's coverage in your house, but of course, it can still be used as a standalone smart speaker. However, if that's the case, consumers should be wary that the Dot is much less potent music player as it comes to hardware specifically. It lacks the large speaker with Dolby processing for crisp vocals and dynamic bass response that the Amazon Echo uses and as such is much less exciting when it comes to music playback.




Compatibility

Rest assured that either the Echo 2nd-gen and the Echo Dot work with just about any smartphone or prominent connected home appliance you can get your hands on. Any smart appliance or IOT service that's worth it salt has Alexa integration, and we'd also advise you to stay away from the ones that don't. Even some newer cars work quite well with Alexa, but that's a topic for another piece.



Features
Amazon Echo 2nd-gen
Amazon Echo Dot
The munchkin smart speaker has a single 0.6" speaker that wouldn't fill your room with sound but will be good enough to inform you about the weather, the news, and respond to any query you might have. Aside from the speaker size, the Echo Dot is similar to the regular Echo in terms of features: it still has the intuitive control set at the very top, line-out with 3.5 mm cable or Bluetooth, music streaming courtesy of Amazon Music, Spotify, Pandora, etc, free audio calls to US, Mexico, and Canada, and... that's about it.
Design
Amazon Echo 2nd-gen
When it comes to overall design, we have to give it to the Echo 2nd-gen, it's the more stylish smart speaker of the two, not only because it allows for way more customization, but also because it is designed to be proudly displayed in your home. The different fabric and wooden finish cases that are available separately are a safe bet that your new Amazon Echo will find its rightful spot in your
casa
no matter the interior styling. While the controls at the top of the gadget are quite prominent, they wouldn't steal the show and will never look terribly out of place no matter where you put your smart speaker.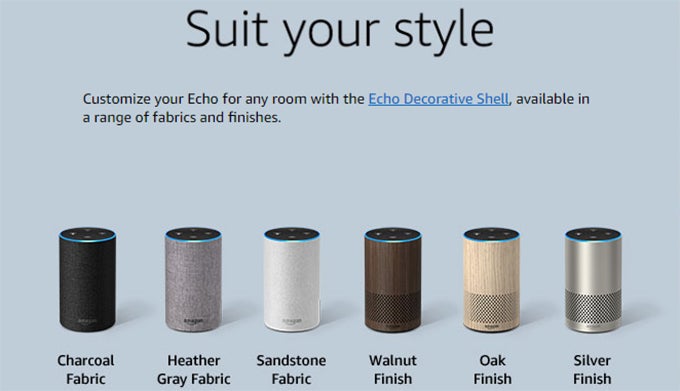 Amazon Echo Dot
Meanwhile, the much smaller Echo Dot also has its own selection of custom cases that allow you to match the gadget with your interior. We'd argue that the Echo Dot features a more contemporary and stealthy style and as such doesn't boast any wood veneer styles, with the most "conservative" ones available being the leather variations.



Amazon Echo 2nd-gen
At the time of writing, the Echo goes for $84.99, but it normally sells for $99. Should you get this one? Of course, but only if you can't live without loud tunes as the speaker setup of the Echo is its main selling point. For all other uses, go for the Echo Dot, which is basically the same, but less potent sound-wise
Amazon Echo Dot
The Amazon Echo Dot can be scored for just $39.99 at the time of writing, but it normally goes for $49.99. That's more affordable than the regular Echo for a reason: the Dot is simply not as spectacular when it comes to audio performance, and if music plays a large part in your everyday life, you should probably go with the Amazon Echo and only consider the smaller smart speaker as an additional sidekick for the Alexa experience.