Alternatives to SMS cut into carriers' revenue
36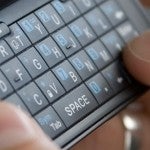 According to
Reuters
, alternatives to SMS (short message service) are cutting into the profits of Stateside mobile carriers.
BlackBerry Messenger
,
iMessenger
and
Facebook's mobile messenger service
are three of the names mentioned by Reuters as messaging services that are taking revenue away from the carriers. And some of the alternatives to SMS are able to
add many of the same features
that the carriers offer.
While those using alternative messaging services still must pay for internet access on their mobile device, the cost for each message is less than if the user signed up for a monthly SMS plan, or paid for each message sent. The carriers in the U.S. are missing out on buckets of money since they
charge both the sender and recipient
of a text message. European carriers already have seen their financials hurt by lower use of SMS. For example, Dutch carrier KPN blames the increased use of the messaging service offered by Facebook and Twitter for the drop in text messaging revenue the carrier had last year.
To show how wide spread the use of alternative messaging services is overseas, South Korea's
Kakaotalk

handles 30 billion messages monthly

. And there is no reason not to expect this from happening to the same degree in the U.S.;
Verizon CEO Lowell McAdam told an Investor's Conference last month that he expects SMS messaging to be under attack in the States. And there is a reason for carriers to be worried.
Craig Moffett, an analyst for Sanford Bernstein, called text messaging
"

the most profitable service known to man

." According to the analyst, SMS messaging brings in $1,000 for every MB of data transmitted compared with 2 to 13 cents per MB that comes in from a wireless Internet data plan.

AT&T and Verizon have responded by

eliminating some cheaper rate plans

for text messaging. AT&T in August eliminated a $10 monthly rate for 1,000 text messages and now offers a $20 per month unlimited plan, or a pay-as-you-go service for 20 cents a message. In November, Verizon removed a $5 monthly plan for 250 texts and is left with a $10 rate for 1,000 texts a month, or a $20 unlimited rate plan.

What helps the carriers retain messaging business is that not every person has a BlackBerry or uses Twitter and Facebook which makes it hard to be able to send messages to all of your friends if they all don't own a BlackBerry or use the same social networking sites that you do. While messages sent on BlackBerry Messenger can't be received on an Android phone, an SMS message sent from that same Berry can reach all of its intended recipients as mobile carriers do have agreements to

exchange text messages

with each other.

It was the agreement among rival carriers to carry each others text messages that made that form of communication popular. The CTIA says that the number of texts rose from 930 million in June 2002 to 1.5 billion one year later after the carriers reached an agreement on
interoperability.
Despite all of the alternatives to SMS, according to Reuters, text messaging currently accounts for 12% of the annual revenue of a U.S. mobile carrier.
source:
Reuters