Alcatel OneTouch Pop Fit hands-on: the fitness "wearable" smartphone
2
Wearable fitness trackers are everywhere! Heck, just looking back at what we covered during CES 2014 early last month, it seems that many companies, small and large, are seriously getting into the segment. Although it's not something new per se, since some smartphones incorporate many of the same features employed by wearable fitness trackers, Alcatel is going with a slightly different approach when it comes to "
wearable
" tracking features with its upcoming Alcatel OneTouch Pop Fit.
Design
When everyone is focusing on bigger sized smartphones, the Alcatel OneTouch Pop Fit goes in the complete opposite direction by presenting us with an uber compact device – almost puck sized to tell you the truth. Quite simply, its aim is to give prospective owners a colorful and "
wearable
" smartphone solution that can go along with you on a run without the need to be held in the hand. Specifically, the wearable part of the phone isn't what you'd think, but rather, Alcatel will be selling an armband strap that holds the phone in place – so hence the "
wearable
" part about it.
Beyond that, the other highlight of the phone's design is its small stature. Constructed from glossy plastic, there's neat personalization aspect where its rear casing can be interchanged with different colors back covers. Aside from that, one can argue that its design language is all too conventional. All in all, it's a smartphone that definitely stands out amongst the crowd for it its pint-sized looks.
The power and volume buttons are slightly raised, making them sometimes difficult to feel out. The other items around its trim include the 3.5mm headset jack, microphone, and miroUSB port. Prying off the rear casing, it's packing along a 1000 mAh, which is nothing worth screaming about, but it works for its particular size. Unfortunately, in order to access its SIM and microSD card slots, the battery must be removed completely from the compartment.
Display
Part of the reason why the Alcatel OneTouch Pop Fit is so diminutive in size is because of the equally tiny 2.8-inch 240 x 320 (QVGA) 262k color TFT touchscreen it's packing along. Obviously, it's not the prettiest thing we've seen, since it's not sharp and suffers from poor viewing angles. At the same time, colors appear washed out. Seriously, this display harkens back to the old Windows Mobile days.
Interface and functionality
In complementing the "
wearable
" element, there's a fitness widget placed to the left of the main homescreen to give us quick access to launching and viewing our fitness goals – though, it's not comprehensive at all, as it only provides us with information pertaining to distance covered, time, and pace. From the looks of it all, the widget works in tandem with RunKeeper. To the right of the main homescreen, we're presented with a music player widget, which is thoughtful to have, but of course, that's something we can do with any Android smartphone.
Looking elsewhere, Alcatel's customized Android
4.2
Jelly Bean experience is simplified and is keep on making things uncomplicated. For all the talk about being a "wearable" fitness smartphone, it's not all that diversified when it comes to the actual fitness functions. It's bare bones and is nowhere close to what you'd experience from a dedicated
fitness tracker
. Nonetheless, the software isn't finalized, so we might see more things added later on.
Processor and memory
Ticking under the hood is a dual-core 1GHz processor coupled with an oh-so low 512MB of RAM. Needless to say, it's not an impressive set, but it's sufficient enough to handle its similarly paltry screen size and resolution. Generally speaking, minor tasks are handled without too many annoyances, but we have a feel that it's not going to be able to handle intense operations as great as we'd like.
Stuffed with only 4GB of internal storage, it's not going to suffice hardcore multimedia folks, but seeing that it features a microSD card slot, it gives us enough flexibility to overlook the small storage capacity.
Camera
Camera
As we've seen thus far, its specs are nothing worth writing home about – something we're not too surprised about, naturally. Paying attention to the sole camera on it, a rear 2-megapixel one, we're not having any high hopes for its quality. Essentially, the Alcatel OneTouch Pop Fit is outfitted with one just for the heck of it – so don't expect to be capturing masterpieces with it!
Expectations
Pricing and availability is currently unknown at this moment for this, but we're kind of hinging on it bearing an affordable price point – especially taking into factor the low end specs. There's no question that wearable fitness devices are prized possessions in this day and age, though, Alcatel's intentions with the OneTouch Pop Fit is rather cloudy. It's a pint sized smartphone for sure, but it's going to need more than just an armband attachment to earn its wearable status.
Alcatel OneTouch Pop Fit hands-on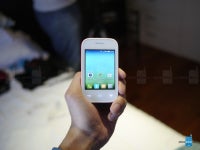 Alcatel OneTouch Pop Fit screenshots