Alcatel ONETOUCH Watch now available for pre-order, iOS and Android connectivity, $149
24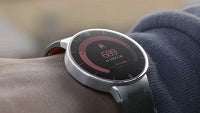 Alcatel made a lot of announcements this past January at CES in Las Vegas. It has significantly increased its marketing to bring more exposure to the brand across the United States.
It has also started selling
unlocked devices directly
to consumers, capable smartphones like the
ONETOUCH Idol X+
and the
ONETOUCH Idol 2S
, each well under $300 free-and-clear. More than a dozen unlocked and carrier branded devices are available now through Alcatel's direct sales site.
Another big push Alcatel is making involves wearables too. The company announced the
ONETOUCH Watch at CES
. This nifty little gadget is a no nonsense wearable that will work with an iPhone or Android smartphone, and in addition to providing 3-to-5 days of battery life, it also comes in at just $149.
While the ONETOUCH Watch brings a traditional form factor for a watch, it also houses the necessary features to provide the wearer with a supplement to his or her smartphone, rather than be an outright replacement. The interface is straightforward and easy to figure out.
The display is 1.22-inches in diameter, and is almost completely round, mimicking the small chin that the Moto 360 has. In lieu of going the Android Wear route, Alcatel opted to build a proprietary interface that is efficient and functional - provide notifications, activity monitoring, music controls, and heart rate data. The ONETOUCH Watch also houses an altimeter, e-compass, NFC tag, and is IP67 water and dust resistant, so you can take it in the shower. You may also select from a number of different watch faces, and shake your wrist to activate your camera, so you can take selfies without reaching for a camera button somewhere.
Coupling that with efficient hardware, and Alcatel can offer a device that does not need to be charged daily. When it is time to recharge, there is no cable or inductive charger to worry about, simply unsnap the tip of the wrist band and plug the whole thing in to a USB-2.0 port. Charging should take an hour or less.
As long as you are running an Android smartphone running 4.3 and up, or an iPhone running iOS 7 or later, you can connect to the ONETOUCH Watch. Alcatel is now accepting pre-orders for the ONETOUCH Watch with the black wrist band. Other color options will be available later this year.
More details are available in the press release below, and the source link will bring you to Alcatel's order page if you want to order your ONETOUCH Watch. You can also check out the
hands-on time we got
with the neat new watch.
WATCH OUT! AWARD-WINNING ALCATEL ONETOUCH WATCH
AVAILABLE FOR PRE-ORDER NOW FOR $149.99

IRVINE, Calif. – MARCH 31, 2015 – ALCATEL ONETOUCH today announced preorder
availability of the award-winning ALCATEL ONETOUCH Watch. The Android
and iOS compatible Watch will be available directly from ALCATEL ONETOUCH via
www.alcatelonetouch.us – starting at $149.99 USD. At pre-order, the ALCATEL
ONETOUCH Watch will be available with a sporty black band, with other Watch
styles available later in 2015

"We've always believed that great technology should be accessible, practical and
easy-to-use," said Steve Cistulli, Senior Vice President & General Manager of North
America for ALCATEL ONETOUCH. "With the ALCATEL ONETOUCH Watch, we've
brought a great looking smartwatch direct to market; at a price that makes this
technology accessible to a wide range of consumers."

The Watch runs a propriety operating system, which allows for greater battery life,
sleeker design build and compatibility with Android and iOS smartphones. It also
comes pre-loaded with a full suite of everyday apps like active health monitoring,
phone notifications, music controls and heartrate monitoring. Additional unique
features include, built-in USB 2.0 charging directly through the Watch band, as well
as shake to activate camera control, making it possible to get the perfect selfie
without having to press a button.
source:
Alcatel
Recommended Stories