After five years, Apple finally activates its Twitter account
10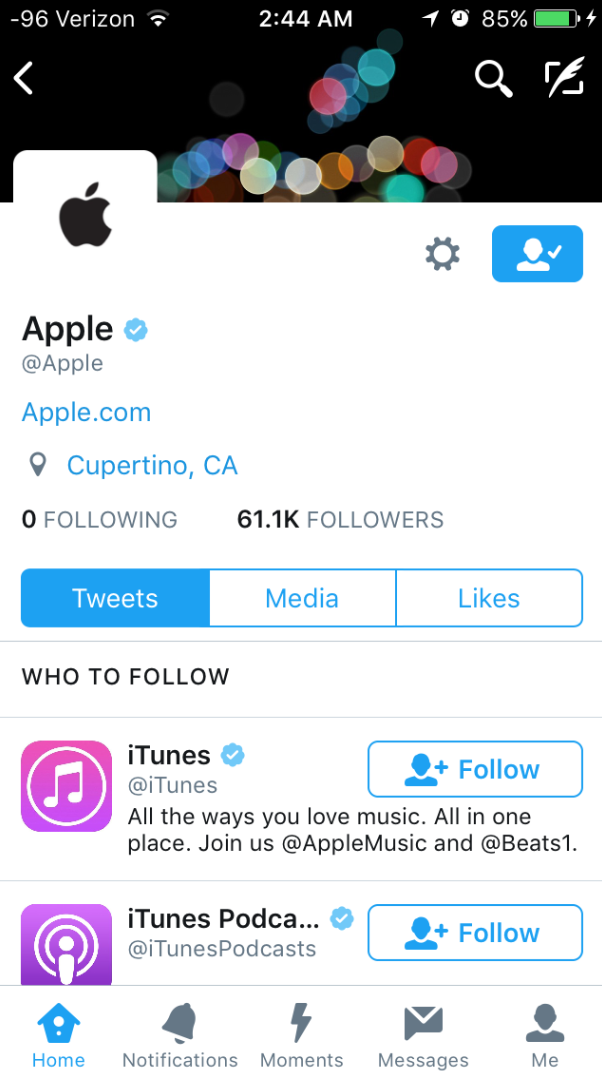 Apple finally activates its Twitter account
The big news on Twitter yesterday involved Apple. Just days before the tech titan unveils the
Apple iPhone 7
and
Apple iPhone 7 Plus
, the company finally activated a Twitter account with the handle @Apple. The handle was actually registered five years ago this month, but the account was dormant until now. The most recent count shows that Apple has picked up 63,100 followers, but has yet to send a tweet.
We should see a jump in followers by September 7th. Bloomberg reporter Mark Gurman disseminated a tweet yesterday, predicting that Apple would use the account to live tweet the event in San Francisco scheduled for that date. Besides the new iPhone models, we could see the second-generation Apple Watch.
Apple will no doubt use the Twitter account to help promote its devices. Right now, Twitter recommends that those who follow @Apple also follow @iTunes, @iBooks and @iTunesMovies. Other suggestions include Apple marketing chief Phil Shiller (@pschiller) and co-founder Steve Wozniak (@stevewoz).
While @Apple was just activated yesterday, earlier this year Apple opened a Twitter account for Apple Support (@AppleSupport) and Apple News (@AppleNews). The latter is where you'll find news stories that are about to be posted on the iOS app.
If you have a Twitter account and want to start following @Apple, click on the sourcelink.
source:
@Apple
via
BusinessInsider