Afraid of spiders? Then don't play Animal Planet's Real Scary Spiders game
9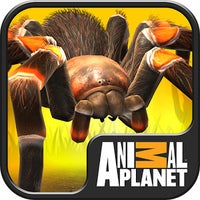 There are many things in this world that people are afraid of, and spiders are definitely somewhere on the top ten list. Facing a fear, however, might be a good way of overcoming it. Perhaps that's one of the reasons why the guys at Animal Planet have chosen to launch a mobile game about spiders.
The title is called Real Scary Spiders and it is a simulation game, in which you raise your own hairy, long-legged, virtual arachnid. You feed it, clean its lair, and play with it, all the while completing various tasks that raise your experience level. Gold and gems are accumulated as the game progresses. This in-game currency is used to buy things like spider food, but you can also spend it on new spiders.
The graphics and physics effects of the game are simply awesome. Spiders move in a pretty realistic way and can even leap towards you "sticking" onto the inside of your screen. But what's really impressive is the augmented reality feature that lets you project your spider in the real world using your device's main camera.
Real Scary Spiders is available for free on both Android and iOS so go ahead and give it a try.
| | |
| --- | --- |
| Developer: Discovery Communications | Download: Android, iOS |
| Genre: Simulation | Price: Free (with in-app purchases) |