Adventure game fans - grab all 3 Blackwell Legacy games for a third of the price! (iOS)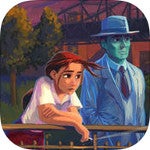 The Blackwell Legacy is a point-and-click adventure, which currently spans across three games, with the fourth one on the way. The titles have the graphical style of '90s questing games, but are supplemented by a soundtrack and voice acting, which reek of modern-age quality standards. The gameplay is a mix of all the classic ingredients – endless dialog with hidden hints, puzzles that range from obvious to mind-boggling, and lots of different environments, which may be pixelized, but bear their own kind of beauty.
Of course, no point-and-click adventure is any good without an intriguing story, and Blackwell delivers on that as well. Spoiler-free – version, you play as Rosangela Blackwell – a young book-reviewer, who finds out that she is a medium and can communicate with ghosts. In Sixth Sense style, souls contact Rosa when they need help to "move on". Naturally, one thing leads to another, and Rosa ends up trying to solve some pretty eerie mysteries.
Sound like your thing? Well, the 4th game of the series – Blackwell 4: Deception – is about to released on the 24th of September. To celebrate this, and help gamers get into the story, developer Wadjet Eye Games have made the first title – Blackwell 1: Legacy – available for free on iOS. It has also slashed the prices of Blackwell 2 and Blackwell 3 by 50% - from $3.99 per title, down to $1.99 per game. In other words – you can snatch all three games for the total price of $4, while before, all of them would collectively cost $11.
Download for iOS:
Blackwell 1: Legacy
Blackwell 2: Unbound
Blackwell 3: Convergence