Acer shows off a hat to take that perfect selfie
18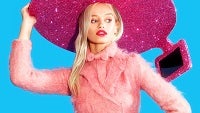 Selfies, oh selfies how you are simultaneously a boon and bane of our existence. We extend the phone with our arms, or use some extension rod to capture the whole gang while out on the town, making duck faces for good measure.
For those that are extra vane however, Acer created a one-of-a-kind couture hat that looks like a sparkly sombrero, specifically equipped to hold a tablet in the perfect position to take selfies from every angle, any time you want.
Designed by Christian Cowan-Sanluis for Acer UK, this somewhat hideous fashion accessory is actually available for sale, and it includes an
Acer Iconia A-1 840
tablet. The wide bill of the hat rotates 360-degrees so you can survey every possible angle for the best lighting to take the perfect selfie every time.
Pricing was not shared, but the package includes a mini sombrero case of sorts. "Users can access any apps such as Facebook or Instagram whilst wearing the hat – being on social media never looked so glamorous," according to Acer.
To check out the selfie hat, an appointment is required as it is a limited edition. You can get it in any color you want, as long as that color is pink.
via:
Pocket-lint