Acer Iconia One 7 hands-on
4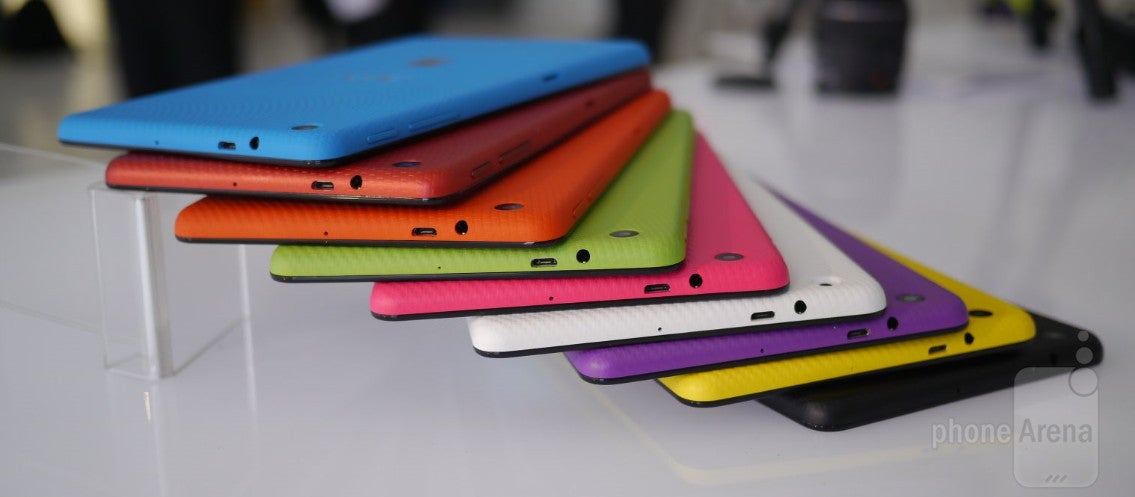 Acer held a press event in New York City earlier today, where they introduced its latest mobile computing devices. Full-blown Windows 8 laptops and all-in-ones were in abundance, but the event yielded two particular budget oriented Android tablets. Starting off with the one that's bound to make its presence here stateside, the Acer Iconia One 7 is sure to entice consumers on a pinch with its hard-to-miss $129.99 cost.
Design
Compact, sleek, rounded around the edges, and lightweight, this 7-inch tablet has all the elements to make it a decent budget-oriented tablet. Generic is definitely the name of the game with this one, however, it's wonderful to know that its plastic textured casing is available in a rainbow of colors – giving the user a sprinkling of personalization. Beyond that, there isn't a whole lot regarding its design, aside from its wide feel in the hand.
Display
Effective enough for our eyes to comfortably enjoy surfing the web on its 7-inch LED-backlit 800 x 1280 IPS display, the screen is otherwise of lower quality due to its washed out looks at wide angles and bland color reproduction. We can only imagine how tough it'll be attempting to view the display outdoors, in bright conditions. The resolution, of course, is something we expect, since it's a budget offering and all. It doesn't come close to meeting some of the higher resolutions on similar sized displays, but we can't complain about it too much.
Interface
Fortunately, Acer's customization is fairly light on the tablet, which is running Android 4.2 Jelly Bean. Basically, those customizations are limited to just a few Acer-oriented widgets on the homescreen and some preloaded apps. To tell you the truth, it appears as though it's a mostly stock experience – so there won't be a huge learning curve for those coming over from another Android tablet.
Processor and memory
Peeking at the back of the tablet, there's that '
Intel Inside
' sticker perched right beneath the Acer logo. Specifically, the Acer Iconia One 7 is powered by a dual-core 1.6GHz Intel Atom Z2560 processor with 1GB of RAM, which seems to give the tablet some decent handling, as most basic tasks perform with enough responsiveness. Still, we're curious to see how it fares with 3D gaming or some other processor intensive tasks.
Available in both 8GB and 16GB options, there's a microSD card slot on its side to provide us with additional storage.
Camera
Flush to the surface in the rear of the tablet, a 2-megapixel camera sits in the upper left corner ready to give users quick snapshots and videos. Naturally, we can't expect a whole lot in terms of quality with its below-average sized camera, but hey, we'd bet that some people are nonetheless pleased to know it can be used when nothing else is around. Around the front, it's packing along a 0.3-megapixel camera.
Conclusion
Let's be honest here folks. The Acer Iconia One 7 isn't going to rocket straight to the top of the charts with its ho-hum specs, but rather, it's meant to be an option for those who are on a strict budget. Attached with a base price point of $129.99 when it goes on sale in the US sometime during the end of June, it's undoubtedly an attractive prospect considering it's a functional and usable Android tablet – one that's further strengthened by the bright paint jobs it's available in. Hardcore enthusiast will continue to eye the Google Nexus 7 for the best experience, but don't take the Acer Iconia One 7 for granted either.